Salish Sea Conservation POB 483
Bellingham, WA 98227-0483
EMAIL: sseaconservation@gmail.com
PHONE: 206-497-2178 (voice message only)
Water quality in general has been under assault by irresponsible humans for a long time, not just the drinking water, but all water-ways around the Salish Sea. As time goes on, this subject becomes increasingly important for everyone in the community.

To volunteer for shoreline garbage cleanup or to make a donation, please contact us.

© 2020 - 2021 Salish Sea Conservation. All Rights Reserved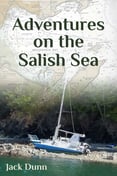 Click on the image to preview it on Amazon. All proceeds go to Salish Sea Conservation.